Fort McHenry National Monument And Historic Shrine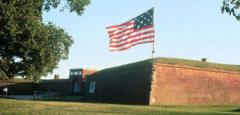 The monument honors the fort which inspired Francis Scott Key to pen the National Anthem during the Battle of Baltimore in 1814.
The Visitor Center includes exhibits, a model of the fort, and a theater which features a film, "The Defense of Fort McHenry." Within 200 yards is the Star Fort, which serves as a museum that includes military memorabilia, an electric battle map, restored barracks and restored flag pole.