Fort Toulouse/fort Jackson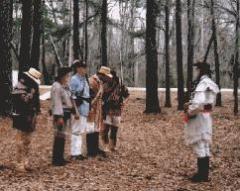 Nestled at the confluence of the Coosa and Tallapoosa Rivers 15 miles north of Montgomery and just south of Wetumpka, Alabama, Fort Toulouse-Fort Jackson State Historic Site has been a part of over 6000 years of history. The 165-acre park, operated by the Alabama Historical Commission, is open year-round for the public's enjoyment where one can step back in time, wandering through the French and American forts or walking to the Mississippian Mound site. Visitors may choose to visit the William Bartram Nature Trail, named for the famed 18th century botanist. The trail winds through the southern edge of the park to the Tallapoosa River. Browse the bookstore and museum in the Graves House, with archaeological collections featuring French colonial, early American and prehistoric Indian items.
The Park also boasts of a 39-site campground overlooking the Coosa River. Almost every month includes a weekend of living history by the French Marines at Fort Toulouse along with a weekend of living history by the Tennessee Militia and the U.S. Army Regulars at Fort Jackson. One weekend a month is also set aside for historic black-smithing. There are special events throughout the year such as Frontier Days in the Fall and the French and Indian Encampment in the Spring.