Gari Melchers Home And Studio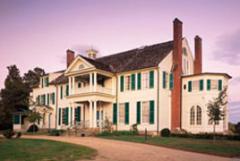 This colonial-era home, known as Belmont, was built on a hill outside Fredericksburg during the 1790s. It is furnished, however, not as it was in the colonial period, but as it looked during the early twentieth century when internationally famous artist Gari Melchers lived there. The stone studio where Gari and his wife, Corinne, worked looks as if the artist had just stepped outside.
In their travels and residences both here and abroad, the Melchers amassed a rich and varied collection of antique furniture and carpets, fine china and pottery, and paintings and prints by Old Masters as well as new. Notable among the furnishings are a French Savonnerie carpet and a Dutch Rococo secretary. Shelves are stacked with Chinese export porcelain and Delft and Wedgwood dishes. The works of Corinne Melchers, an artist in her own right, are displayed here, including The Model, a clever "picture within a picture" portrait of her husband at work. Virtually all the couple's personal possessions remain with the estate so that the spacious interiors of their day have been carefully reproduced and reflect their very individual and eclectic tastes.