Gettysburg National Military Park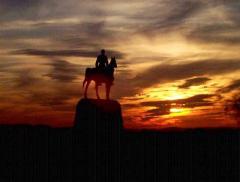 The Union victory at the Battle of Gettysburg in the summer of 1863 ended General Robert E. Lee's second and most ambitious invasion of the North and ultimately turned the tide of war against the Confederacy.
Often referred to as the "High Water Mark of the Confederacy", it was the war's bloodiest battle, with 51,000 casualties. It also provided President Abraham Lincoln with the setting for his most famous speech, the Gettysburg Address.
Visitors to Gettysburg National Military Park should begin at the Gettysburg National Military Park Museum and Visitor Center at 1195 Baltimore Pike, Gettysburg, where the park offers free information, a vast museum about Gettysburg and the Civil War, the Gettysburg Cyclorama, and a bookstore.
The film "A New Birth of Freedom", narrated by Morgan Freeman, is a central feature in the new center and orients visitors to the significance of Gettysburg. There is a fee for admission to the film.
The center also provides information on the numerous ways to tour the battlefield park. The park offers a self-guided auto tour. Tour route maps are available at the Visitor Center information desk at no charge.
The park also offers a Licensed Battlefield Guide Service for private battlefield tours in your own vehicle or with a guide on a tour bus (offered seasonally). Commercial bus tours of the park are available through companies in Gettysburg.