Hancock Historical Society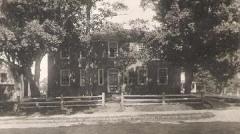 The Hancock New Hampshire Historical Society is a non-profit organization incorporated in 1903 by twenty-seven founders.
The house, property and museum are maintained entirely by society volunteers as a public trust and a community service. The collection of archives and artifacts are the treasures of Hancock's past and include such items as furniture, china, glass, military items, musical instruments, a large collection of tools, manuscripts, photographs, paintings, textiles and more.
In addition to the permanent displays, there are changing exhibits each summer.