Helen Keller Birthplace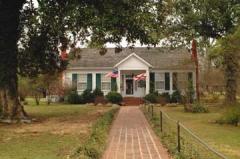 Built in 1820 only one year after Alabama became the 22nd State of the Union, Ivy Green is a simple, white clapboard home design in typical Southern architecture. The main house is of Virginia cottage construction, with four large rooms on the first floor bisected by a wide hall. Each room boasts an individual fireplace. Upstairs are three rooms connected by a hall. Having survived untouched through the ravages of the Civil War, Ivy Green is maintained to the smallest detail in its original state.
Since 1954 Helen Keller's birthplace has been a permanent shrine to the "miracle" that occurred in a blind and deaf seven-year old girl's life. At that time Ivy Green was placed on the National Register of Historic Places. Playwright William Gibson's epic drama, "The Miracle Worker" is performed on the grounds of Ivy Green each year on weekends from early June through mid July.