Cumbres & Toltec Scenic Railroad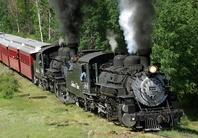 The Cumbres & Toltec Scenic Railroad was originally constructed in 1880 as part of the Rio Grande's San Juan Extension, which served the silver mining district of the San Juan mountains in southwestern Colorado. Like all of the Rio Grande at the time, it was built to a gauge of 3 feet between the rails, instead of the more common 4 feet, 8-1/2 inches that became standard in the United States. The inability to interchange cars with other railroads led the Rio Grande to begin converting its tracks to standard gauge in 1890.
Today the railroad is operated for the states by the Cumbres & Toltec Scenic Railroad Commission, an interstate agency authorized by an act of Congress in 1974. Care of the historic assets, and interpretation of the railroad is entrusted to the Friends of the Cumbres & Toltec Scenic Railroad, a non-profit, member-based organization whose mission is to preserve and interpret the railroad as a living history museum for the benefit of the public, and for the people of Colorado and New Mexico, who own it.
Visitors are invited to ride the scenic route in a restored, living history museum.