Henry B. Plant Museum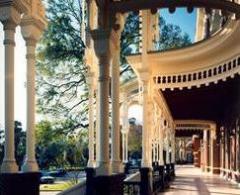 A testament to the extravagant tastes that informed Gilded Age architectural style, the 1891 Tampa Bay Hotel was originally intended to serve as a railroad resort for the rich. Today the Henry B. Plant Museum, named for the railroad magnate who spearheaded its construction, offers a critical look into Florida's turn-of-the-century legacy through artifacts and educational exhibits.
The Henry B. Plant Museum interprets the turn-of-the-century Tampa Bay Hotel and the lifestyles of America's Gilded Age. Critical to the success of this mission is the restoration and preservation of this National Historic Landmark, an opulent 1891 railroad resort, and the artifacts significant to its history and the life and work of Henry Bradley Plant. Through educational exhibits and events, the museum transports visitors of all ages and backgrounds to the late Victorian period, the beginnings of Florida's tourist industry, and the early years of the city of Tampa. This quintessential Victorian palace features unique Moorish revival architecture, opulent European furniture and art treasures of the original railroad resort. The past will delight you at the Henry B. Plant Museum.