Jean Lafitte National Historical Park And Preserve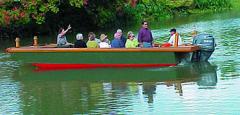 The six sites of Jean Lafitte National Historical Park and Preserve offer something for everyone, from history to culture to outdoor adventure. For outdoor activities in a Louisiana wetland, vist the Barataria Preserve in Marrero. For talks and tours at the site of the War of 1812's Battle of New Orleans, visit Chalmette Battlefield in Chalmette. For a look at the influences that shaped one of America's great cities, visit the French Quarter Visitor Center in New Orleans.
For the history of the Acadian (Cajun) people who settled southeast Louisiana, bayou boat tours, and craft demonstrations, visit the Acadian Cultural Center in Lafayette. For the prairie Acadian story, cooking and craft demonstrations, and Saturday night at the "Cajun Grand Ole Opry," visit the Prairie Acadian Cultural Center in Eunice. For bayou boat tours, free jam sessions with local musicians, and the history of Louisiana's bayou country, visit the Wetlands Acadian Cultural Center in Thibodaux.