John Dickinson Plantation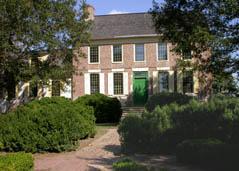 It was January 18, 1740 when Samuel Dickinson, a wealthy Quaker tobacco planter and merchant of Talbot County, Maryland moved his family to the plantation on Jones Neck, southeast of Dover, Delaware. John Dickinson was seven years old at the time. Over the next 68 years, until his death in 1808, John Dickinson split time between this country plantation that he inherited from his father, and his city homes in Philadelphia and later, Wilmington. And throughout that time, he played a key role in the birth of a new nation-the United States of America.
After John's death in 1808, the plantation passed to his daughter and remained in the family until the 20th Century, when it passed through a series of owners. In 1952, the National Society of the Colonial Dames of America in the State of Delaware purchased the mansion with 12 acres of land for $25,000. They presented the site to the State in Constitution Day ceremonies that year. The mansion opened as a museum in May 1956, after three and a half years of restoration.