Lawrenceburg Public Square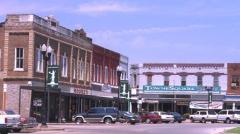 Small shops, frequented by citizens and visitors, surround the Lawrenceburg Public Square. Some of these shops contain gifts, furniture, food, and clothing, just to name a few. The square is very reminiscent of old times, and the friendly people make it a delight to walk around.
The bronze life-size statue of Colonel David Crockett that stands on the south side of the Public Square is the only statue erected in honor of Tennessee's and Lawrence County's famous hunter, frontiersman, soldier, legislator, and hero of the Alamo. Inscribed on the granite pedestal is his famous motto, "Be sure you are right, then go ahead." The statue was unveiled and dedicated on September 14, 1922.