Lewis H. Latimer House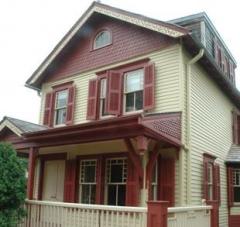 The Lewis H. Latimer House is a modest Queen Anne-style, wood-frame suburban residence constructed between 1887 and 1889 by the Sexton family. Lewis Howard Latimer, an African-American inventor and electrical pioneer and the son of fugitive slaves, lived in the house from 1903 until his death in 1928. The house remained in the Latimer family until 1963. Threatened with demolition, the house was moved from Holly Avenue to its present location in 1988.
Lewis H. Latimer, who was born in 1848, was determined to overcome his lack of formal education and taught himself mechanical drawing while in the Union Navy and became an expert draftsman. He worked with three of the greatest scientific inventors in American history, including Alexander Graham Bell, Hiram S. Maxim, and Thomas Alva Edison. He played a critical role in the development of the telephone and, as Edison's chief draftsman, he invented and patented the carbon filament, a significant improvement in the production of the incandescent light bulb. Over the course of his career, Latimer supervised the installation of street lighting and the construction of electric plants in many American cities, as well as London and Montreal.
Today, the New York City landmark's exhibitions and public programs call attention to Latimer's and other African Americans' contributions to science, technology and American life.
The Lewis H. Latimer House is owned by the New York City Department of Parks & Recreation, operated by the Lewis H. Latimer Fund, Inc., and is a member of the Historic House Trust.