Madeline Island Museum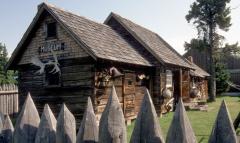 The original museum is four historic log structures that have been relocated and connected together. It includes the only remaining building of the American Fur Company complex built at La Pointe in 1835, making it the oldest structure on Madeline Island. That building is adjoined to an old barn, the former La Pointe town jail, and the Old Sailor's Home, which had been built as a memorial to a drowned sailor.
For centuries the Ojibwe people have lived near Lake Superior and Madeline Island is still the heart of their heritage and spirituality. The American Fur Company room tells their story through extraordinary beaded objects, clothing and tools used in daily life.  Also, explorer and fur trade artifacts illustrate the growth of these important enterprises on the island. They reflect the mixing of the French, British, American and Indian cultures and reveal how profoundly they influenced each other to create one unique island culture. These influences are still felt today.
Behind the iron-barred windows of the Old Jail room, you'll see up close the vast collection of tools and equipment used in logging and lumbering, boat building, commercial fishing, carpentry and barrel-making.  See rare artifacts from the United States Lighthouse Establishment, including an 1862 French-made Fresnel lens that once beamed a guiding light from the Raspberry Island lighthouse tower.
The Old Sailors' Home room features objects of daily domestic life. Built as a shelter and haven for stranded sailors, the Old Sailors' Home was built by homesteader Olaf Anderson in memory of his brother who perished at sea. The log structure is richly filled with hand-made furniture, kitchen tools and equipment, and textiles and items representing late 19th and early 20th century immigrant life on Madeline Island.
On the grounds are the museum's larger artifacts including equipment from the Basswood Island brownstone quarry, a boat winch, net-drying rack and a maple-sugaring kettle. The stockade area is reminiscent of fortified structures built by the French in the 17th and 18th centuries.