Mark Twain Boyhood Home And Museum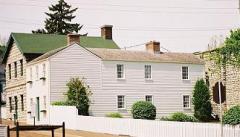 Discover how young Samuel Clemens grew up in the small village of Hannibal to become one of the world's most beloved authors, Mark Twain.
The Mark Twain Boyhood Home & Museum properties includes eight buildings; six historically significant buildings and two exciting, interactive museums whose collections include fifteen original Norman Rockwell paintings. A self-guided tour of the Mark Twain Boyhood Home & Museum properties gives you the chance to explore the Hannibal of Samuel Clemens' childhood and experience the beloved stories he created as Mark Twain through the power of his imagination.
Museum properties include the Interpretive Center, Mark Twain's Boyhood Home, Huckleberry Finn House, Becky Thatcher House, J.M. Clemens Justice of the Peace Office, Grant's Drug Store, and Museum Gallery.