Mark Twain House And Museum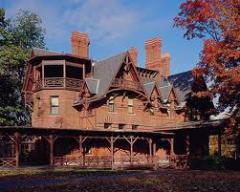 The Mark Twain House and Museum provides a rich treasury of Twain's triumphs and tragedies, contemporaries and the Gilded Age.
At the museum, visitors can experience a biography from award-winning filmmaker Ken Burns. And for a penetrating look at Twain's notable peers, period influences, and enduring legacy, visit our 2,000–square-foot gallery with changing exhibits. You'll see rare manuscripts, photos, artifacts, fine and decorative arts never before on display.
Tours of the Twain house reveal both its whimsy and stylistic idiosyncrasy and more importantly, its inspired and sophisticated expression of modernity.