Mississippi Sports Hall Of Fame & Museum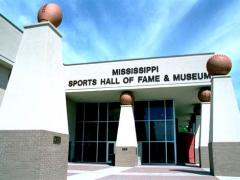 Today, with enthusiastic statewide support and some 250,000 visitors later, this once casual concept proudly stands as "Mississippi's First Museum for the 21st Century."
Operated by the Mississippi Sports Foundation, Inc., the Mississippi Sports Hall of Fame and Museum occupies 21,542 square feet on Lakeland Drive in Jackson. The site, donated by the City of Jackson, is adjacent to the Jim Buck Ross Agriculture and Forestry Museum and across from Smith-Wills Stadium.
Memorabilia from the former Dizzy Dean Museum is also a part of the Museum's second floor exhibit area.