National Frontier Trails Museum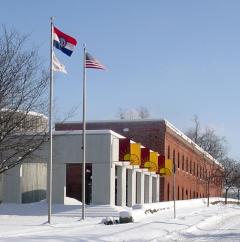 The facility is a museum, interpretive center, and research library dedicated to telling the rich history of America's principle western trails.
In 1989-90 the National Frontier Trails Museum was built by the State of Missouri with the surviving portion of the Waggoner-Gates Mill incorporated into the design. The old mill's locker room was refurbished as well, and serves as the national headquarters of the Oregon-California Trails Association. Operated by the City of Independence, the Trails Museum tells the story of the exploration, acquisition, and settlement of the American West. An award-winning introductory film prepares visitors for the interpretive exhibits which guide them along the Santa Fe, Oregon, and California Trails. Quotations from trail diaries are extensively used, allowing pioneer travelers to tell of their experiences in their own words.