National World War I Museum at Liberty Memorial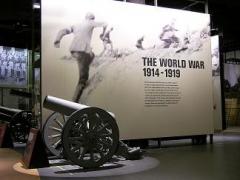 Opened on December 2, 2006, the museum contains objects and documents ranging from weaponry and uniforms used during the war, to letters and postcards from the field.
The historical collections of the museum began years before an actual museum building existed. Immediately after the armistice of November 11, 1918, a group of Kansas Citians gathered to propose a memorial to the men and women who served in the war and to those who died. The earliest ideas for the memorial included a museum of objects from the war.The first items in the collection were a number of posters from the war. Other materials soon followed, and the museum continues to collect today. The museum has remained faithful to the initial objective: to collect, preserve, and interpret the physical objects of World War I.