Prickett's Fort State Park & Prickett House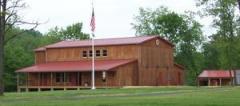 Both the reconstructed fort and the Job Prickett House are open for public tours from mid-April through October, with a living history style interpretation. Visitors enjoy seeing costumed artisans at work weaving, blacksmithing, cooking, and building muzzleloader firearms. A dozen or more special events are conducted annually.
The reconstructed Fort covers a 110 by 110 foot square, with 12-foot-high log walls and blockhouses at each corner. Lining the weathered stockade walls are 14 tiny cabins, some with earthen floors. A meetinghouse and a storehouse fill the common. When the threat of Native American uprisings occurred, up to 80 families from the surrounding countryside would hurry to the Fort. They would stay as long as the threat existed, from days to weeks. "Forting up" was simply tolerated by settlers. Life in the cramped quarters could be unpleasant, but such sacrifices were necessary for survival on the dangerous frontier of the late 1700s. Today's Fort still speaks eloquently of that life and time.