Sandy Spring Museum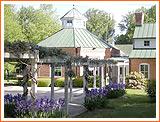 The Sandy Spring Museum's extensive artifact and document collection illuminates the rich 18th, 19th, and 20th century history that took place in this small Maryland town.
The collection features a number of items relating to the War of 1812, such as objects and documents from James Madison's 1814 flight from the advancing British army, during which he spent a night in Sandy Spring.
The museum's collection also includes a letter from Dolley Madison to the mother of the prominent local Quaker Edward Stabler, who would later design the seal for the U.S. Senate and Supreme Court. Stabler had been jailed during the War of 1812 as a result of his pacifism. In the letter, Dolley Madison promises Stabler's mother that she will intercede for his release.
Additionally, the many collection items relating to manumission in Sandy Spring offer visitors a look into antebellum Maryland's uniquely hybrid border-state society, which consisted of slaves, free blacks, and whites working side-by-side.
The extensive manumission records from 1780-1820 document the local Quaker-led effort to end slavery, while the numerous genealogical, property, commercial, and religious records of the free black families in the community from emancipation through the 20th century offer visitors a vivid picture of the everyday life of African Americans after the Civil War.
The records from Cloverly, a facility next door to the museum where exhausted Union Army nurses were treated, today reside in the permanent collection. The museum also has records of the constant strain on agriculture from both the Union and the Confederate armies passing through the area repeatedly in search of food, horses, and cloth during the Civil War.
The Sandy Spring Museum's vast collection, spanning three centuries, will enlighten expert researchers and lay historians alike.