Savannah History Museum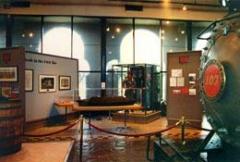 Visitors can see exhibits about the Revolutionary War Battle of Savannah, rare dugout canoes from the 1800s, and a changing exhibit of women's fashions from the nineteenth and twentieth centuries. The museum is also home to Forest Gump's bench, one of Johnny Mercer's Oscar Awards, and a carriage owned by the family of Girl Scouts founder Juliette Gordon Lowe. Other exhibits include weapons and military uniforms, as well as items from Savannah's railway history. Visitors may also enjoy the film, "Savannah the Survivor."
The museum is home to more than 10,000 artifacts-- the largest collection of artifacts in the entire coastal community.