Tucker House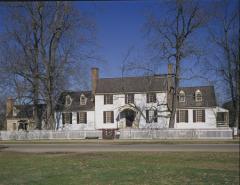 This Federal-style home is the primary headquarters of the Queen Anne's Historical Society.
Tucker House, built circa 1794 by James Kennard, is a six-room house with six fireplaces connected to one main chimney. Built on the second lot to be sold in Centreville, Tucker House stands as a great architectural example of the Federal Period.
Originally the house was two rooms deep and one room wide and in 1797 its value was assessed at $867. The house was enlarged twice, once around 1815 and again in the late 19th century. The home was purchased by the Tucker family in 1898 and donated to Queen Anne's County Historical Society in 1968.
Today Tucker House is home to the society's office and collection of genealogical records, furniture from several periods including a late 18th century desk, Chippendale and Hepplewhite furniture, Rose Medallion china, a spinning wheel and a quilting frame. Also of note are the post and plank meat house in the backyard and the small garden that is maintained by Queen Anne's Garden Club.