Washington State Historical Society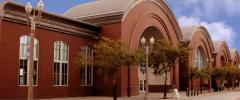 Founded in 1891 and now into its second century of service, the Washington State Historical Society boasts 3 facilities dedicated to the history of the state and region.
Begin your journey through Washington with an architectural masterpiece: designed by Charles Moore and Arthur Andersson, the 106,000 square foot Washington State History Museum building stands proudly on Pacific Avenue in Tacoma. The museum boasts soaring spaces and dramatic archways that invite you into a history experience full of colors, textures, sights, and sounds.
The State Capital Museum and Outreach Center is located in the historic Lord Mansion, seven blocks south of the capital campus in Olympia. The museum is dedicated to preserving and interpreting the history and culture of Washington and features two floors of exhibits.
Exhibits on regional Native American history and on Olympia as Washington's capital bring area history alive. A series of provocative temporary exhibits encourages visitors to examine history through different cultural, social, and political lenses. Gracious lawns and ethnobotanical gardens featuring native Northwest flora surround the museum.
The Washington State History Research Center provides public access to historical archives, special collections, digital collections and research library, while also serving as the principal repository for the Society's artifact collections, special collections, and digital collections.