William Howard Taft National Historic Site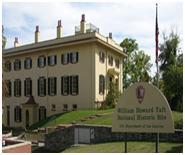 From the time of his birth in 1857 until he embarked on a political career that would win him the two highest offices in the nation, William Howard Taft lived here, surrounded by family and what his mother called "inspiration to everything that was good."
Visitors to Willam Howard Taft National Historic Site will be exposed to the familial and social influences that shaped the character and ideals of the only American who ever served as both President and Chief Justice of the United States. Guided tours of the period rooms on the first floor and the exhibits on the second floor of the birthplace provide solid insight into William Howard Taft and glimpses into the lives of his parents, siblings and children. The Taft Education Center exhibits and programs provide a greater understanding of the role other Tafts have played to help mold public life in Cincinnati, the nation and even the world. Gallery I contains a life-size animatronic figure of Charles P Taft II, son of William Howard Taft. Charlie will talk to visitors about what he called "quite a family." Gallery II contains static and traveling exhibits. An orientation video and a gift shop are also available in the education center.