Air Force Armament Museum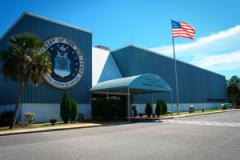 At this museum, visitors can experience everything from aviation warfare armament from the early days of World War I to today's high tech planes and bombs.
The Air Force Armament Museum on Eglin Air Force Base brings the history of U.S. air combat to the present-day military tourist. As the only institution in the country dedicated to Air Force armament, the museum offers a rare opportunity to examine planes and weapons from the past century of aerial warfare.
Its expansive collection, which includes a WWII era B-17 bomber and a GBU-43 Massive Ordnance Air Blast bomb (often known by its nickname, "Mother of All Bombs"), will appeal to the military enthusiast both young and old.