Berkeley Springs State Park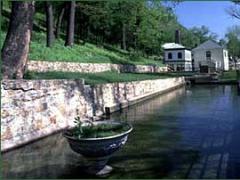 The warm mineral springs that naturally bubble up in Berkeley Springs State Park have been prized for at least 250 years. Placed on the National Historic Register, the park includes the springs and the town's first spa and bathhouses.
George Washington was among the first visitors to the "fam'd warm springs" in 1748, '50 and '51 when the area was still frontier and part of the extensive land holdings of Washington's neighbor and mentor, Thomas Lord Fairfax. Washington eventually owned land both in town and along the Potomac; he wanted to own more. During the mid-1750s and the French and Indian War, Washington was involved in pursuing the "enemy" -- native Indians -- around the springs.
In the 1760s, Washington visited several times with his family to "take the waters." Warm Springs or Frederick Springs as it was also called, was a popular resort among Washington's social group. Along with members of his family, friends and colleagues, Washington purchased lots at the springs when the town of Bath was established there by the Virginia Legislature in December 1776. In 1784, Washington visited, began a long association with steamboat inventor James Rumsey, and hired Rumsey to build a house for him at the springs.