Captain Salem Avery Museum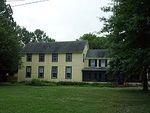 The heritage of the western shore area of the Chesapeake Bay is collected and preserved by this museum.
The Captain Salem Avery Museum is where the Shady Side Rural Heritage Society preserves, collects, documents and shares local history and culture. The historic waterman's home of Captain Avery and his family is circa 1859 and a National Historic Landmark. The Museum is an educational and community center for all to have fun together and to participate and share in activities that expand understanding of the social, cultural, economic, and environmental changes on the western shore of the Chesapeake Bay.