Chicamacomico Lifesaving Station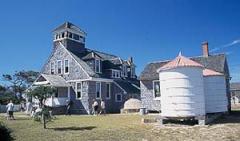 This site is located on Hatteras Island in the village of Rodanthe on the Outer Banks of North Carolina. Built and manned in 1874, Chicamacomico was the first United States Life-Saving Service station in North Carolina, dedicated to the sole purpose of rescuing lives in peril from the sea. After the U.S. Life-Saving Service evolved into the U.S. Coast Guard in 1915 this station saw service until 1954. It is home to one of the greatest rescues in early Coast Guard history, the 1918 rescue of forty-two crew members of the British tanker, Mirlo.
The six U.S. Life Savers involved in that rescue were awarded the Silver Cup from the British Trade Commission and the Gold Life-Saving Medal from the U.S. Treasury Department. King George of England was so appreciative of the heroes of Chicamacomico and their valiant efforts that he fashioned a gold medal in their honor and awarded it to these same men. The greatest honor bestowed upon them was the Grand Cross of the American Cross of Honor, the nation's highest award for valor. Only eleven of these medals have been awarded in the history of the United States; six of these medals were conferred upon the rescuers of Chicamacomico Life-Saving Station. Many other important rescues are documented in our archives. In the forty-four year history of the U.S. Life-Saving Service, 177,286 lives were saved of the 178,741 lives in peril (99.2%), a record unparalleled even today. Remarkably, this is coupled with a less than one percent loss of life for the actual U.S. Life Savers. No life-savers were ever lost from Chicamacomico in the 80 year history of being an active station, mainly because of their superb training.
Chicamacomico Life-Saving Station Historic Site is listed on the State Register of Historic Places, and is a proud member of Historic Albemarle Tour.