Clarke County Historical Museum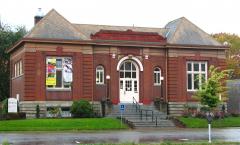 Housed in the historic Alston-Cobb house, the Clarke County Historical Museum seeks to educate the local community and visitors about the area's history.
Included on the National Register of Historic Places, the Clarke County Historical Museum is a treasure trove of local history. Housed in an 1854 Plantation Plain-style home, the museum has permanent displays about the county's rich history.
One of the most popular exhibits is the fossils of the Zeuglodon, a prehistoric whale than swam in the ocean that covered Clarke County some 50 million years ago. The museum also features exhibits about Native Americans, the Civil War and World Wars, the county's rural life, and an antebellum kitchen. Traveling exhibits are also featured. Visitors may also tour the other historic buildings on the museum grounds. Click on the links below to learn more about these other buildings.