Colonial Spanish Quarter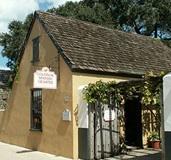 As St. Augustine's sole living history museum, the Colonial Spanish Quarter offers a rare glimpse of the city under Spanish rule. Reenactors fill a number of occupations common in 1740, from carpentry to blacksmithing. Visitors can additionally experience the culinary culture of the colonial city in the Taberna del Gallo, a reconstructed tavern dating from the 1740s.
Step back in time at St. Augustine's only living history museum. Visit with the blacksmith, carpenter, or soldier's wife as they go about their daily activities. The museum entrance is located at 29 St. George Street in historic downtown St. Augustine.