Cross County Historical Society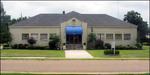 The extensive archival collection held by this local history organization allows visitors to engage with the rich past of Cross County, AK.
Cross County, which was founded during the bloody Civil War year of 1862, has witnessed monumental historical changes in its 150 years of existence. This small local history museum testifies to that history through a large archival collection that researchers of southern society will find irresistable. Their collection contains a number of military records, including Arkansas military grants for the War of 1812, records of the units formed in Cross County for service in the Civil War, and a muster roll of Company A - 29th Arkansas Confederate Cavalry. Their other collections comprise Cross County's court records, marriage records for 1943 to 2000, genealogical records, cemetery records, church records, land records, a list of sheriffs serving throughout the county's history, and newspapers published in the county. Given Cross County's birth amidst the ravages of war, the Historical Society is a must-visit for anyone interested the social history of the Confederacy.