The Danish Immigrant Museum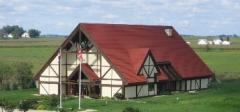 The actual structure of the museum site is a half-timbered building set on 20 acres of land which was replicated to look like an authentic Danish farm.
The museum is dedicated to telling the story of the Danish immigration experience across North America. Visitors are invited to explore their travels from different states across the U.S. Traditions carried on by later generations of Danish-Americans are presented in programs, exhibits and special events. This museum is a national center for Danes, gaining recognition each year and providing a gathering place for Danish related meetings and events.