Depot Museum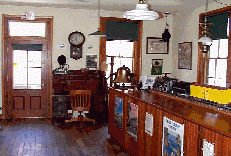 The permanent exhibit depicts the Bear Flag Revolt of June 14, 1846, when a group of Americans rode into Sonoma, captured General Mariano Vallejo, raised the Bear Flag and proclaimed California a free republic. The revolt was achieved peacefully, but the republic lasted only 25 days, until a U.S. Navy officer, a grandson of Paul Revere, rode into town and replaced the rough banner with the Stars and Stripes.
Other exhibits and displays portray Sonoma history from the Miwok Indian period, the founding of the Pueblo of Sonoma by Mariano Vallejo, glimpses of a kitchen, parlor, bedroom and schoolroom of pioneer days, and the original stage curtain from the Union Hall and Hotel in Sonoma. The curtain was painted around 1906-07 by California artist Sidney Tilden Daken and other artists.
For railroad buffs, the Rand Room has the ticket counter, agent's desk, telegraph keys, brakeman's lantern, the big iron safe, train schedules and a map of early Sonoma Valley railroads. On the track behind the Museum are a caboose (open for visitors on request), refrigerator car and cattle car.