Fantasy Of Flight Museum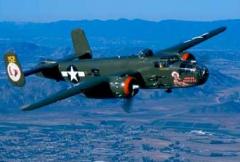 The stunning art deco facility is a perfect setting to display this priceless collection of rare vintage aircraft. Housed in three huge hangars are over 40 airplanes, many of which are restored to original flying condition. Visitors can actually board our Short Sunderland, the last airworthy flying boat and have a close encounter with the only B-26 Marauder still flying in the world. Other notable aircraft include a B-24 Liberator, a Curtiss TP40 and twoP51 Mustangs.
The fleet of vintage aircraft displayed at Fantasy of Flight features aircraft whose accomplishments have earned the admiration of knowledgeable aviators and inspired the imagination of those who have always dreamed of soaring above the clouds. The vintage aircraft, painstakingly acquired by lifelong aviation enthusiast and founder of Fantasy of Flight, Kermit Weeks, represents all eras of aviation from early flight to the 1950s.
Some aircraft have been carefully restored to represent the same dignity they possessed when they ruled the skies. Others, shown in the immersion experiences, look exactly the same as when Weeks acquired them.