Fisher And New Center Buildings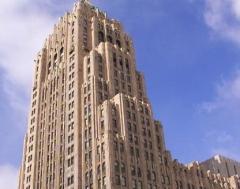 The seven Fisher brothers built the Fisher Building as a home for Fisher and Company, which had pioneered in making the closed automobile body. The brothers chose the best materials, the best location, and the best architect, who, in turn, engaged the most talented sculptors, modelers, decorators, and craftsmen as collaborators. The soaring Fisher Building exterior bears a striking resemblance to Eliel Saarinen's Chicago Tribune Tower design of 1922. Kahn begins with an arcaded basement unit similar to the one he used in the earlier General Motors Building. Above that, however, the vertical piers rise unbroken to a tapered top, reflecting in dramatic terms the change in attitude toward high-rise design that was signaled by Saarinen's Tribune Tower.
The Fisher and New Center Buildings together are architecturally significant as a superbly designed complex exemplifying some of the finest craftsmanship and artistry displayed by any Art Deco style buildings constructed in the United States in the 1920s. The Fisher Building is perhaps the most significant structure of its kind ever designed by master architect Albert Kahn and lavishly exhibits the work of several noted artists including Geza Maroti, colleague of Eliel Saarinen and an important figure in the development of the European arts and crafts movement of the teens and twenties, and the firms of Ricci and Zari and Anthony DiLorenzo of New York, who designed and executed much of the plasterwork, stone carving and ornamental bronze work for the Fisher Building as well as other important structures around the nation in the 1920s. It is historically significant as a local landmark and for its long association with the Fisher family and the development of the American automobile industry.