Fleischmann Atmospherium Planetarium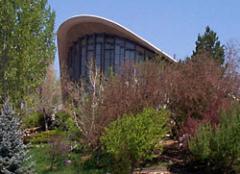 Located at the northwestern edge of the University of Nevada-Reno campus, the Fleischmann Atmospherium Planetarium was built in 1963 as the first atmospherium of its kind in the world. The first planetarium, the Adler Planetarium in Chicago, opened in 1930. But it wasn't until the 1960s that widespread public interest in space exploration and science, coupled with improved technology led to an increase in the number of planetaria, as they spread to mid-size American cities such as Reno. Designed by Reno architect Raymond Hellman and constructed by McKenzie Construction, the atmospherium is an excellent example of the Populuxe style of architecture, characterized by space-age designs that depict motion, such as boomerangs, flying saucers, atoms, and parabola. Building such as this reflect American society's emphasis on futuristic designs and fascination with space-age themes during the 1960s.
Dr. Wendell A. Mordy, director of the University of Nevada's Desert Research Institute, envisioned that the atmospherium would not only be a home for the institute but a place where students, physicists and the public could learn about weather and the atmosphere. It was the first planetarium in the nation to feature a 360-degree projector capable of providing horizon-to-horizon images and through time-lapse photography showing an entire day's weather in a few minutes. Although no longer is use, the atmospherium initially featured an experimental solar heating and cooling system designed by Desert Research Institute. The system consisted of 19 louvers, black on one side and white on the other, capable of being rotated to reflect or absorb light. An 18,000-gallon water tank served as a heat exchange unit.