Fort Dodge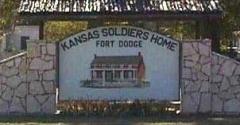 Situated on a site once used as a camping ground by wagon trains, Fort Dodge was a supply depot and base of operations against warring Plains Indians. The fort was established in 1865. The first buildings were sod and adobe, and some troops lived in dugouts. Disease was common during the first year in the isolated fort. The first shipments of lumber arrived in 1866 and officers' quarters and a temporary hospital were built. At the height of its operation, the fort boasted four companies of infantry.
The 7th U.S. Cavalry was at Fort Dodge when George Armstrong Custer returned to his regiment after a court martial suspension. The fort was abandoned in 1882. Eight years later Fort Dodge was deeded to the state for use as a soldier's home, and it still serves today as the Kansas Soldiers Home. Several buildings are open to visitors and tours. The quiet, tree-lined walks and dignified buildings are a far cry from the desolate sod homes and dugouts that made up the original fort in 1865. Limited archeological testing was conducted at the site in 1996 by archeologists from the Kansas State Historical Society.
Today the Fort is utilized as a retirement community and nursing facility for retired Kansas veterans. A historic library and self-guided walking tour tell the fort's history to visitors. Many of the original buildings are still in use.