Fort Negley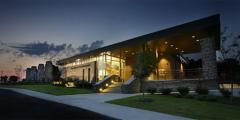 At the Visitors Center, the film, "The Fall of Nashville" reenacts how the Union Army captured Nashville in 1862. The river, turnpikes, and railroads had spurred the growth of the city from its beginnings. The Union Army occupied the city to control these transportation routes. Almost overnight, Nashville was transformed into the Union Army's major supply depot for the Western Theater of the war.
Learn the story of the 2,768 people who built Negley. It was the largest of a group of forts built by the Union, and the largest inland masonry fort built during the Civil War. It was 600 feet long, 300 feet wide, and covered four acres of land. The workers lived in a contraband camp on the northeast side of the worksite, and were both free blacks and slaves who had been conscripted by the Union to serve as laborers. Between 600 and 800 died during the construction, and only 310 ever received pay.
Visitors can also see photos of Nashville during the Occupation and learn about the Fort's architecture and artillery with interactive displays. A kiosk in the lobby provides a link to the National Park Service's Civil War Soldiers and Sailors System where visitors can search for Civil War ancestors.
Walk up the hill to the remains of Fort Negley. Enter through the sally port used by Union troops, gaze to the south from the observation deck, and imagine the lives of the men who worked and fought here and the citizens of Nashville whose lives would never be the same.