Garst Museum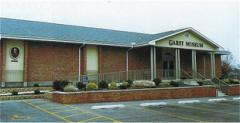 Run by the Darke County Historical Society, the museum features exhibits on Annie Oakley and the Northwest Territory Era. The museum also provides several history lectures and presentations.
Frank Butler, Annie's husband of 42 years, their faithful dog, Dave, and their life together is unfolded in the Annie Oakley Center. Visitors can learn more about this American original at the Annie Oakley Center, located in the Coppock Wing of Garst Museum.
The painting of Chief Tarhe, "The Crane", Grand Sacrem of the Wyandots is part of the collection of paintings, drawings and artifacts displayed on the first floor of the Garst House. Most of the first floor is devoted to the mid 1700's-early 1800's era, but it also includes items from mastodon bones to artifacts from Ohio's earliest inhabitants.