Laramie Plains Museum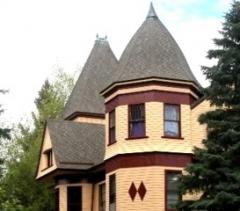 The museum offers guided tours of the thirty-room mansion. The rooms are filled with artifacts of life on a Western Plains town as it built up around the railroad. The mansion was built by Edward Ivinson in 1892.
Ivinson arrived in Laramie in 1868 on the first train to Laramie. Upon arrival, he started out a church, established a prison for the Wyoming Territory, and opened a bank. Ivinson remained tied to the life of the town, serving on the first Board of Trustees of the University of Wyoming, helping to promote the railroad, and building the town's first Episcopalian Church.