Minidoka Internment National Monument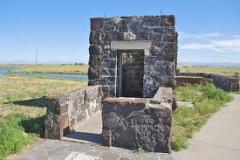 This was but one of the many Japanese-American internment camps established after President Franklin Roosevelt's Executive Order 9066.
Today there is a small gravel parking area, paths, and interpretative signs about the internment located at the stone guard house and waiting room beyond the Hunt Bridge. Also commemorated here are the Japanese Americans from the relocation center who died serving in the military during World War II. Nearly 1,000 from Minidoka served in the army; Minidoka had the largest casualty list of the ten relocation centers.
In 1979 Minidoka was added to National Register of Historic Places. In 2001 it became the 385th unit of the National Park Service.
This site should not be confused with the town of Minidoka, ID, 50 miles east.