Montana Historical Society Museum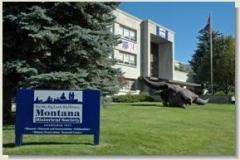 Montana's Museum collects, preserves, and interprets fine art, historical, archaeological, and ethnological artifacts that pertain to Montana and its adjoining geographic region.
Besides caring for the Society's museum collections, program staff conduct research, produce exhibits - long-term exhibits, special exhibits, archived exhibits, and traveling exhibits, sponsor public programs, answer reference requests from the public, and provide technical assistance to other museums and historical societies. One of the society's permanent exhibit, Montana Homeland, examines the lives of people born and raised in the western frontier state.