Richard I. Bong WWII Heritage Center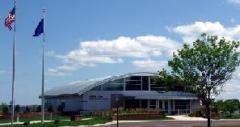 Enjoy a new perspective on WWII at the Richard I. Bong WWII Heritage Center, complete with first-person narratives and the rare, carefully restored P-38 Lightning.
Visitors to the heritage center will find it on the Lake Superior bayfront, where shipyards built ships and transported locally mined iron ore for the World War II effort. The center tells about WWII through the eyes of the participants, both on the home front and the battle front. The main exhibit features a rare restored P-38 Lightning fighter plane, complete with all the markings from Dick Bong's famous P-38 "Marge," displayed in a Southwest Pacific jungle setting. Additional interactive exhibits tell the story of WWII through memorabilia, photographs and personal stories. Towards its mission as an educational resource, the center includes a theater for educational films and videos, a classroom for visiting school groups and a research library.