Thomas Center for the Arts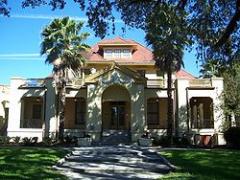 Originally built as an estate for Major William Reuben Thomas and his family, "Sunkist Villa", as Thomas called it, was completed in 1910. After living in the house for 15 years, Thomas decided to renovate the building and use it as Hotel Thomas, opened for business in 1928 with 94 hotel rooms. 
After the Thomas family decided to sell the property in 1968, it briefly housed Santa Fe Junior College before being designated on the National Register for Historic Places in 1973. The City of Gainesville purchased the building the following year and established it as a cultural center, complete with art galleries, period recreations, and historical exhibits.