Torrington Historical Society & Hotchkiss Fyler House Museum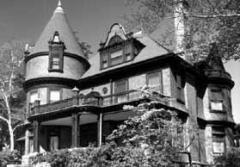 When Torrington resident Orsamus R. Fyler (1840-1909) commissioned a new home in 1897, he had no idea that it would one day become a house museum and the headquarters of the Torrington Historical Society. Undoubtedly, what he intended was a grand yet comfortable home for himself, his wife Mary, and their daughter and son-in-law, Gertrude and Edward Hotchkiss. Upon completion of the home in 1900, the Fylers and Hotchkisses quickly settled in. The residence remained in the family until the last occupant, Gertrude Fyler Hotchkiss, died in 1956. In her will, Mrs. Hotchkiss bequeathed her estate to the Torrington Historical Society. This extraordinary gift included the Hotchkiss-Fyler House Museum and grounds, the adjacent house (now the history museum), and the Carriage House. With this philanthropic gesture, Gertrude left a legacy for her family and a treasure for the community.
The entrance to the house immediately deposits visitors into a classic 1930s kitchen. Simple and utilitarian, this room is in stark contrast to the main section of the home. There, visitors will find rooms containing impressive woodwork, stenciled decoration, murals, ornamental plaster ceilings, parquet floors, original combination gas and electric chandeliers and of course, the family furnishings. But perhaps most impressive to visitors is the quantity and quality of the millwork that can be seen throughout this residence. Built by the Hotchkiss Brothers Company (the family business), the house was obviously a showpiece for the firm. Mahogany, birds-eye maple, quarter-sawn oak and red birch are just a few of the types of wood used in the house. Paneled walls and elaborate hand carved details can be seen in abundance, especially in the first floor of the mansion. The interior decoration, together with the family furnishings and collections of porcelain, paintings and art glass, are sure to provide a visual delight for the visitor.