1932 & 1980 Lake Placid Winter Olympic Museum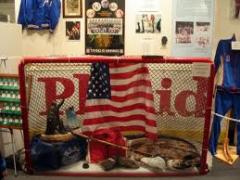 The Whiteface Lake Placid Olympic Center offers a museum to record the historic events of the two Olympic Games hosted by this village.
The 1932 & 1980 Winter Olympic Museum acts as the proverbial keeper of the flame. If you're interested in the story of how the little mountain village of Lake Placid twice became the center of the winter sports world, this museum is for you. Our displays and exhibits will bring to life the memories and accounts of Olympic achievement that occurred here in 1932 and 1980. We have torches, medals, skates, bobsleighs and historical memorabilia from the Olympic Games. Watch the never released historical 1980 Miracle on Ice hockey game.