The Hermitage Home Of President Andrew Jackson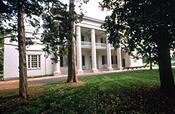 The Hermitage mansion has been meticulously restored to its 1837 appearance and today looks much as it did when Andrew Jackson returned to it after finishing his second term as President. After the home was damaged by fire in 1834, Jackson had it remodeled in the Greek Revival style. Today, six wallpapers installed after the fire still hang on the walls and the majority of the furniture in the home was purchased by the Jackson family to replace pieces damaged in the fire.
Personal objects, like Jackson's swords and books, also adorn the home along with the Jackson family's collection of portraits. When you arrive at the Hermitage mansion costumed historical interpreters greet you and prepare you for your tour. Inside historical interpreters stationed throughout the house tell you about Jackson, his family, and his home and answer any questions you have. On average, the Hermitage mansion tour lasts twenty minutes.