Levi Shinn Log House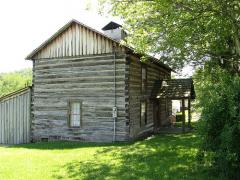 This late-18th-century colonial log cabin evokes the long-gone days of America's Revolutionary era.
Constructed in 1778, the log house is owned and operated as a museum by the Shinnston Historical Association. Shinnston was settled in the late 1770's by three Shinn brothers, Levi, Jonathan, and Clement. Levi's log house is the only structure that remains today. It is open Sunday afternoons.