Old Barracks Museum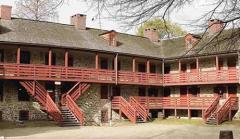 The barracks serves as an educational center for Colonial and American history, and stands as the last remaining structure of its kind.
The Old Barracks is a State and National Landmark located in Trenton, New Jersey. Built in 1758 by the Colony of New Jersey during the French and Indian War, the Old Barracks was a witness in 1776 to the Battle of Trenton, the turning point of the American Revolution.
The building later fell into disrepair, until in 1902 it was purchased by a small group of patriotic women who founded the Old Barracks Association and re-opened the building as the Old Barracks Museum in October of 1903. In 1914, the building was given to the State of New Jersey to maintain its upkeep, supported by the Old Barracks Association and a unique combination of public, private and personal funding. The building was fully restored in 1915-1916 and again in 1995-1998.
Nearly 20,000 school children and thousands more people from all over the world visit the Old Barracks every year, making it one of the most visited sites in New Jersey and one of the most important historic sites in the United States.