Fort Abercrombie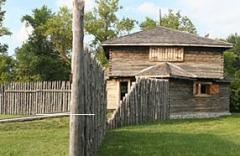 It was also the only post in the area to be besieged by Dakota (Sioux) warriors for more than six weeks during the Dakota conflict of 1862. During the Dakota Conflict, Minnesota Volunteer soldiers manned the fort when area settlers sought shelter there. The "regular" U.S. Army soldiers had been withdrawn during the Civil War and had been replaced by the Minnesota Voluteer Infantry. The fort was not protected by blockhouses or a palisade during the seige, but these defensive structures were constructed soon afterward.
The fort guarded the oxcart trails of the later fur trade era, military supply wagon trains, stagecoach routes, and steamboat traffic on the Red River. It also was a supply base for two major gold-seeking expeditions across Dakota into Montana. Fort Abercrombie served as a hub for several major transportation routes through the northern plains.
After the fort was abandoned in 1877, fort buildings were sold and removed from the site. A Works Progress Administration (WPA) project in 1939-1940 reconstructed three blockhouses and the stockade and returned the original military guardhouse to the site. Beginning in the summer of 2001, a project to refurbish major portions of the WPA project and to reinterpret the site was initiated.